Updated on 18th October 2021
Secondary school is a time where you discover more about yourself – your strengths, interests and potential. At Xinmin, we believe in providing you with the right environment to explore, learn and grow. A spread of different programmes and activities are specially designed for you to challenge and develop yourselves into Curious Learners, Compassionate Contributors and Confident Leaders. These programmes and learning experiences would provide you with opportunities to cultivate your interests, build on your strengths and talents, and enable you to enjoy your learning.
We urge you to fully immerse yourself in these learning experiences and seize these opportunities as they present themselves to you. Only then, can you truly discover what you can be good at, where your interests lie, and hopefully, by the end of your time in Xinmin, have some ideas about what and how you can pursue these interests at a deeper level in the next stage of your education. 
Xinmin Talent Development Approach
The talent development opportunities we provide in Xinmin could broadly be organised along five domains:
Cognitive
Aesthetics
Psychomotor
Community
Leadership
The different opportunities within each domain are further structured into four levels in accordance to Treffinger's Levels of Service approach for talent development. Broadly speaking, Levels I and II programmes are broad-based and highly-inclusive, while Levels III and IV programmes place greater emphasis on catering to the needs and interests of smaller groups of students.
The following table provides a description of each of the levels:
Level of Service (LoS)

Description

Examples

Level 1: Services for ALL students

The emphasis of this LoS is on expanding learning opportunities for all students. Programmes and learning experiences in this level are built in as part of the curriculum and are compulsory for all students in the respective levels or streams to participate in these programmes.

· Lower Sec XinminCares

· Coding@Xinmin

· RefleXions@Xinmin

· Sports modules in PE curriculum

· Science Research Project in Lower Secondary Science

Level 2: Services for MANY students

Programmes and learning experiences in this LoS extend those in Level 1 to beyond basic exploration. Participation is usually voluntary and interest-based. Students could opt in to participate in these activities.

· English Public Speaking Enrichment Programme

· Australian Mathematics Competition

· Xinmin Leadership Adventure Camp

Level 3: Services for SOME students

The focus of programmes and activities in this LoS is to provide an appropriate level of challenge for students who demonstrate the aptitude and interest. Some degree of selection will be involved for students who wish to participate in activities in this level. It is usually useful for students to have some prior experience with some Level 1 or 2 programmes.

· Xinmin Budding Journalist Programme (SPH)

· Singapore Mathematical Olympiad Training

· CRADLΣ's Research & Development Experience Programme

Level 4: Services for FEW students

Programmes in this LoS are designed to stretch our talented students. These programmes are usually highly selective and would require students to have prior experience with some Level 1, 2 or 3 programmes.

· Creative Arts Programme

· International Science Youth Forum

· Level 4 Student Leadership Workshops
A key component of our Talent Development Framework are our processes of identification, development, student ownership, monitoring and recognition that happens in all levels of development.
In summary, our Talent Development Framework is as follows: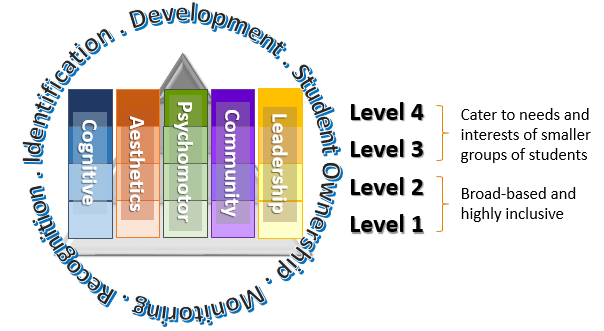 You may wish to click on the following  link  to see the latest catalogue of Talent Development programmes we offer in Xinmin. You may also wish to check out the department pages to find out more about the talent development opportunities they provide.
Harnessing Student-Initiated Learning to develop your Talents
From Term 3 of 2021, Blended Learning will be a feature of every secondary students' school experience in Singapore. Once every fortnight, there will be a day where students do not need to come to school. Instead, you will be engaging in home-based learning at home. The reason for making this change is to nurture you to be self-directed learners and provide you with the time and space to explore and develop your interests.
One feature of Blended Learning is Student-Initiated Learning or SIL for short. SIL is a dedicated time during your HBL for you to explore your personal interests, both within and outside of the curriculum. It also provides you with a good opportunity to learn to be an independent, passionate and lifelong learner. 
You may wish to spend the time set aside for SIL to explore and further develop your talents. To support you in this, the school will provide you with some suggestions and resources. However, you may also wish to decide on the area of interest you want to explore and delve deeper in.
Our Xinmin Talents
Alton Lee (401, 2020)
Alton has always been very interested in Science and we encouraged him to engage in various enrichment opportunities in the subject. Building on the Level 1 programmes we offer all students as part of their lower secondary Science curriculum, we encouraged Alton to take part in the Science Busker's festival, where he explored the effect of heat in creating convection currents through the use of emptied tea-bags.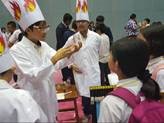 Encouraged by this experience, Alton then participated in the International Student Science Festival, submitting a poster on his research in converting light energy to electrical energy using chlorophyll from plants.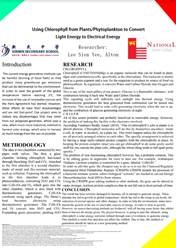 Alton subsequently, signed up for the CRADLE programme co-organised by Science Centre Singapore and MOE, in which he created a drone (quadcopter) under the mentorship of Mr Edmund Khee, a scientist from Science Centre Singapore. It is noteworthy that, for this project, Alton also drew on what he learnt from Coding@Xinmin.
While Alton is doing his post-secondary education in Yishun Innova Junior College, he remains actively involved in pursuing Science research, and has been selected into NTU's Nanyang Research Programme (NRP) since the beginning of 2021. He is currently doing a research on remote sensing (using UAVs) for the monitoring of water bodies in the NRP.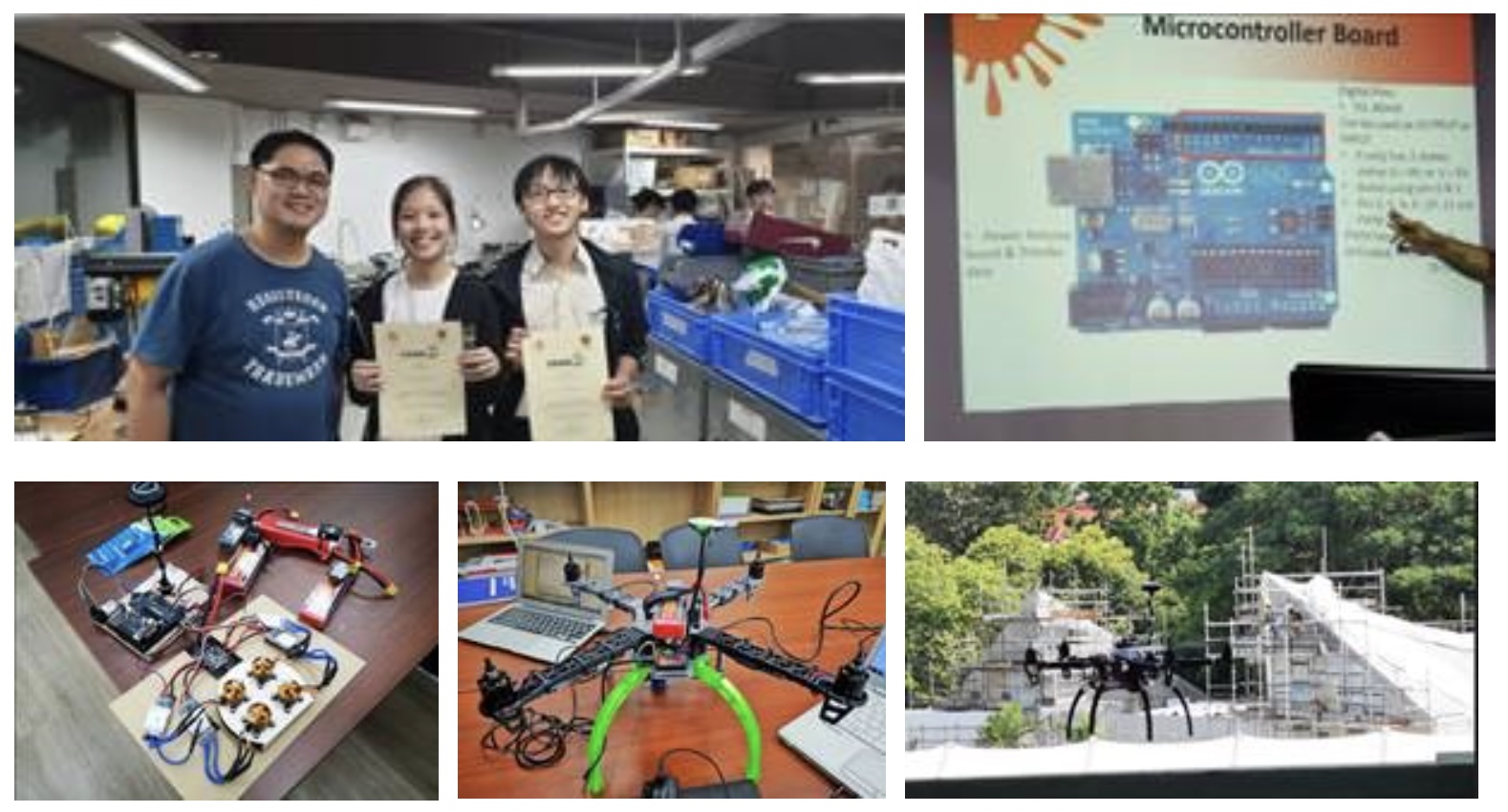 Jeyvian (401, 2021)
Jeyvian is our current Sec 4 student offering O-level Computing.  She started her journey in programming with Xinmin and had demonstrated strong interest in both tinkering and coding since joining the school.
She gathered a group of like-minded friends to form teams to participate in both MakeX and RippleX competitions and received good results for it. When asked about what she enjoyed most from the competitions, she said she enjoyed creating solutions through prototyping and also to bring her friends together to work on something through both the card-boarding and coding skills. Jeyvian also shared that she benefitted from the exposure to computational thinking and different computing languages from Coding@Xinmin and this knowledge enabled her to handle the different tasks in the competitions with ease and confidence. The design thinking and paper prototyping process also added to her confidence.
Jeyvian aspires to work in cyber-related fields and is actively working towards achieving her dreams by seizing the different opportunities offered by the school to hone her skills and deepen her knowledge of programming. She is also an inspiration to her peers and her juniors, proving to them that girls can be as good as, if not even better than boys in computing!
We hope you are inspired by how your seniors have seized the opportunities we provided to develop their talents and deepen their passions. So, take charge of your growth and learning, similarly seize the opportunities available to develop your talents to the fullest!